Biotechnology Vocational School is donated in Brazil
Biotechnology Vocational School is donated in Brazil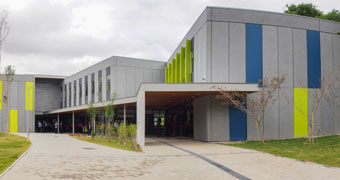 In an action inspired by the ideal of a better world, CGD-PV and its affiliates in Brazil donated the Dr. Celso Charuri Vocational Training Center built in the city of São Paulo, in the suburb of Bom Retiro. It was delivered on November 21, to Senai (National Service for Industrial Learning), one of the biggest organizations for professional education in the world, in a ceremony held at the School, and broadcasted online. This unit will provide quality education to thousands of young people. Thus, they will have the opportunity to obtain work that can improve their lives and that of their families, as well as make a difference where they live.
"Dr. Celso told us about a simple, just Law that says 'Those who have, give to those who don't have'.  A Law that benefits everyone, those who receive, who see their needs met and can have a dignified life; and also, those who donate and have the opportunity to be useful, to help their neighbor. Is there greater wisdom?", said Januário Micelli, representative of CGD-PV.
The Vocational Training Center is Senai's first biotechnology school. According to the institution, the school has the capacity to graduate 1,100 students per year. Among other spaces, it will have 22 laboratories equipped with the latest technology and an incubator that will give young people the opportunity to develop new products and processes, and set up their own company. According to Senai, partnerships will be made with universities and large companies that are interested in proposals made at the incubator, supplying the biotechnology production chain.
For Senai's President, Paulo Skaf, the school gives "a sense of traveling into the future" due to its technological environments and resources. "To PRÓ-VIDA, my sincere thanks. To all who collaborate, all those people who are selfless and think of their neighbor, who donate part of their time, of their resources, aiming at the well-being of others, to all of you, whether in Brazil, abroad, or anywhere on the planet, thank you very much," said Skaf.
Ricardo Terra, regional director of Senai – São Paulo also thanked CGD-PV and said that "the feeling is one of great joy. I am sure that this will transform many lives in our state and also our country," he said. 
This is the 14th vocational school delivered by CGD-PV in Brazil and is part of a project to build vocational centers conceived by Dr Celso Charuri,  founder of PRÓ-VIDA . "Example of love of neighbor, the shortest way to achieve the purpose of a better world", said Cecília Campacci, on behalf of CGD-PV.
The school
The Dr. Celso Charuri Vocational Center – Bom Retiro has building area of 8,600 square meters on a plot of nearly 16,000 square meters. The project was based on innovative construction methods, with an intelligent architectural layout and a forest to prevent odors and noise coming from Marginal Tietê, an important avenue in the city. Modern building techniques were used, such as pre-molded structures, floating floors, and a cleanroom with one of the highest standards of air purity in existence.
The project included accessibility measures to welcome everyone, and sustainability concepts that prioritize efficiency and reduction in energy consumption and optimization of water resources. Solar panels were installed for water heating, sun shades and other elements and architectural aspects that optimize the air conditioning and natural lighting of the environments. There are also reservoirs for rainwater storage